12th International Mechanical Engineering Conference (IMEC-2023) on May 10th and 11th, 2023 under the theme "Role of Mechanical Engineering in Economic Uplift and Sustainability".
Interested individuals/organizations, or groups may submit their abstracts related to any of the Conference Themes.
Develop your abstracts using standard English capturing vividly the focus of the proposed presentation using the relevant templates below.  Submit your completed abstract forms through email to: imec@neduet.edu.pk
All papers received will be taken through a double-blind peer-refereeing process subsequent to which the author/s will be notified for acceptance. All papers accepted for presentation will be published in the conference book.
Conference Topics:
Potential participants are required to present their papers related to all areas of Mechanical Engineering including (but not limited to) the following topics:
Advances in Sustainable Mechanical Engineering
Retrofitting and Modification of Mechanical Structures and Systems
Localization, Entrepreneurial, and Commercialization Case Studies
Reverse Engineering Practices and Case studies
Renewable and Alternate Energies
Additive Manufacturing Prospects in Third World Countries
Emerging Areas of Mechanical and Aerospace
Innovations in Mechanical Design and Manufacturing
Material Science and Nanotechnology from Economic Perspective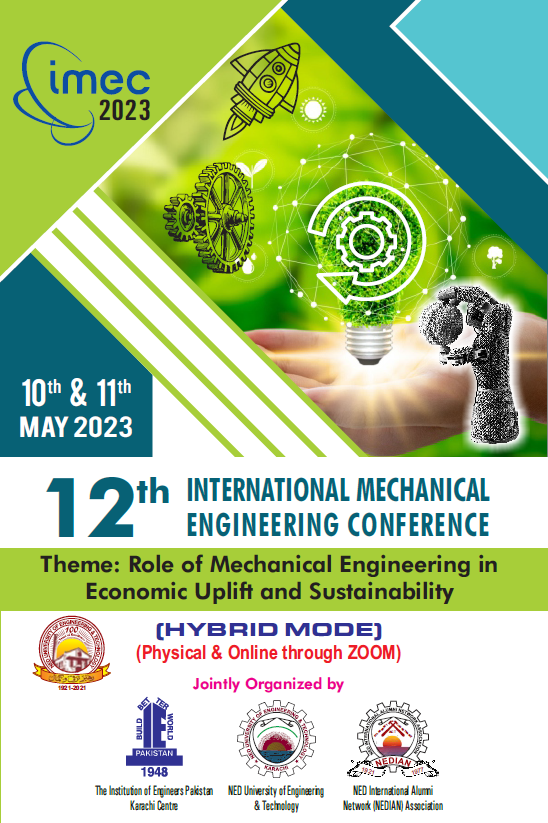 ​